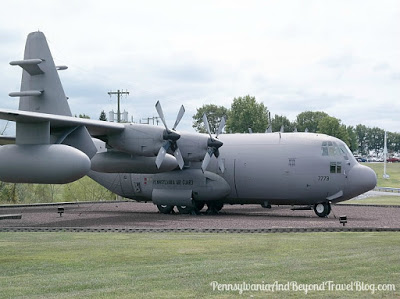 The
Pennsylvania National Guard Military Museum
is located at Fort Indiantown Gap in Annville, Lebanon County. The museum is open Monday and Fridays from 10:00 AM to 4:30 PM, Tuesday, Wednesday, Thursday and Saturdays by appointment only. Admission is free.
We've visited the museum a few times and you can check out one of our previous posts about our visit
HERE
. This time around we want to feature some of the outdoor exhibits located along Fisher Avenue, about a 1/2 mile from the actual museum building and grounds. There is a little parking lot along Fisher Avenue where you can park (free) and then walk around to see the displays.
You'll need to be patient as this web page loads. It's graphic intensive. We did our best to keep all of the information markers with the piece of military equipment that its referring together. You can walk up to each exhibit and read the information and take photographs. You're not permitted to climb on them. We may have a few of them out-of-order.
The
OH-6A Cayuse
was designed as a military scout aircraft during the Vietnam War to meet the Army's need for an extremely maneuverable light observation helicopter. Nicknamed the "Loach" because of its LOH designation (light observation helicopter), the OH-6 was heavily relied upon in Southeast Asia. At peak production during the war, as many as 100 OH-6As were built per month. The Cayuse was used for command and control, observation, target acquisition and reconnaissance.
The
AH-1F Bell "Cobra" helicopter
traces its lineage from the UH-1 Series helicopter. The original "Cobra" replaced the Huey's bulky fuselage with the thin-profile fuselage and tandem seating. For more than 40 years, the "Cobra" struck fear in the hearts of the enemy. The "Cobra" is an aerial weapons platform that provided direct and indirect fire support, armed reconnaissance and aerial escort and cover for transporting aircraft and ground convoys.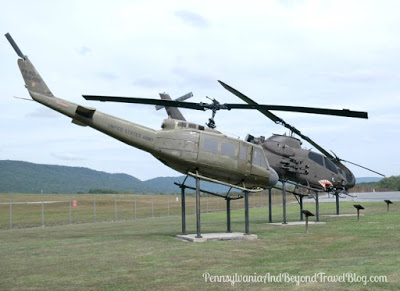 The
UH-1 "Huey" helicopter
is a multifaceted aircraft, capable of command and control, resupply, casualty evacuation, liaison and troop transport. The "Huey" is the most widely used military helicopter. The venerable aircraft began arriving in Vietnam in 1963. It was so versatile that by the end of the conflict more than 5,000 of these aircraft were in Southeast Asia. The "Huey" became a superior asset during Vietnam when used for medical evacuations, and because of this, the mortality rate in Vietnam was much lower than previous wars.
EC-130E "Commando Solo"
Flown exclusively by the Airmen of the 193rd Special Operations Wing, Middletown, Pa., this EC-130E "Commando Solo" is a one-of-a-kind aircraft in many ways. Conducting the U.S. Military's only airborne psychological operations mission, this aircraft and her crew acted in times of peace and war as a flying broadcast studio by sending messages on standard radio and television frequencies.
Beginning its service in 1963 and delivered to the Pennsylvania Air National Guard in 1979, this aircraft served as a faithful workhorse in carrying out its unique mission for nearly three decades. Its last operational sortie in January 2006 followed service in Operation IRAQI FREEDOM. Its final flight brought it to Muir Army Airfield in August 2006, the largest aircraft ever to land at Fort Indiantown Gap at the time.
Affectionately nicknamed "Triple Cripple" by the airmen who worked on Aircraft No. 7773, it is remarkably the only remaining example of its kind.
You can read more about our visit to the Pennsylvania National Guard Military Museum at Fort Indiantown Gap, Pennsylvania by checking out PART 1 of our visit. You'll find more information and can see some of the additional photographs that we took. It's worth the read if you a military and history buff.