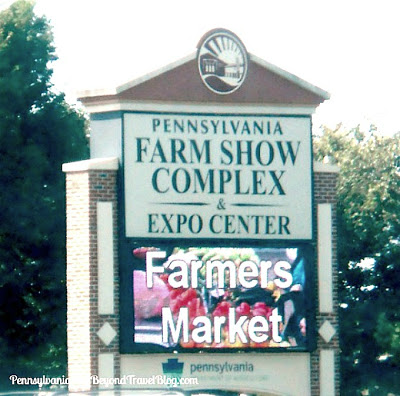 Every year during the month of January the Pennsylvania Farm Show comes to Harrisburg and is held in the Farm Show Complex and Expo Center at 2300 North Cameron Street. People from all over the country flock to Harrisburg area to participate and/or visit the PA Farm Show every year.
We enjoy getting together as a family and visiting the Pennsylvania Farm Show. The kids always look forward to seeing the animals on exhibit, petting them and sometimes feeding them. The adults look forward to the shows and exhibitions put on in the arena and everyone enjoys visiting the food court. The freshly-made milkshakes are a big hit!
The complex is quite vast in size and I recommend that you pick up a free program guide with map at the front door. It will help guide you around the complex so that you can see the events and exhibits that you want to see. It gets extremely crowded there so if you can go during a weekday afternoon, I highly recommend it. Otherwise, expect long lines and crowds during the prime time evening hours.
Arenas, show rooms and expo halls are all broken down into the type of animals that are on exhibit. While going from one area to another you can see horses, cows, steers, sheep, goats, lambs, alpacas, ducks, chickens, geese, turkey, rabbits, pigs, and all kinds of other wildlife that is farmed in the great state of Pennsylvania.
Love art? Enjoy butter? You'll want to check out the butter sculpture which features a new design every year. It's housed in a glass paneled refrigerator unit but is on display for everyone to see. I recommend walking around the entire display as its 3-dimensional and you'll see something new from every side. After conclusion of the event the butter is donated to local food banks and shelters in the central Pennsylvania area.
Parking can be a real nightmare. We highly recommend that you visit their web site to learn where all of the parking lots are located. There are shuttle buses that you can take from the parking lot to the expo center. If you're looking for official handicap parking you'll find that located near the front entrance to the building. With that said...that particular lot fills up fast so there is no guarantee that you'll find a spot.
You'll want to allow at least 2 hours in your schedule if you plan on visiting the Pennsylvania Farm Show. Wear comfortable walking shoes and be prepared to do a lot of walking, standing in long lines and for a crowded venue. It's like that every year, so patience is key.
Note
: Photographs featured in this post were personally taken at the Pennsylvania Farm Show, January 2020. All copyrights reserved.