Over the past 9 years we've been following the Pennsylvania Historical Marker Trail all through our great state and documenting them here on the blog. Millions of people walk or drive by these markers every year and never give them a second thought. They're a great source of historic information and we're trying to bring some much needed attention to them.
While following the Historical Marker Trail through Dauphin County we came across the Fort Manada historical marker located in Grantville Pennsylvania. You'll find it in front of the Manada Golf Course & Country Club on Mountain Road, State Highway 443. You can safely pull into the parking lot of the golf course to photograph it for your waymarking records.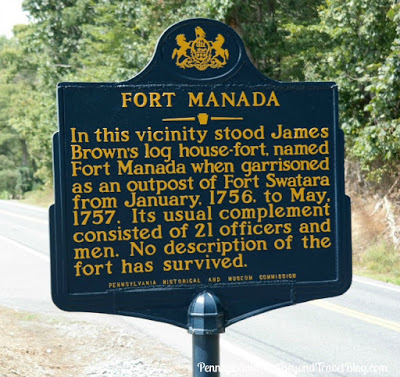 Fort Manada
In this vicinity stood James Brown's log house-fort, named Fort Manda when garrisoned as an outpost of Fort Swatara from January, 1756 to May, 1757. Its usual complement consisted of 21 officers and men. No description of the fort has survived.
By
: 1970 by Pennsylvania Historical and Museum Commission.
If you're in Grantville and following the Pennsylvania Historical Marker trail you'll find 2 additional markers within 3 miles of one another. You can learn more about those markers by visiting the
Historical Markers
section right here on our blog.