Over the past 9 years we've been following the Pennsylvania Historical Marker Trail all through our great state and documenting them here on the blog. Millions of people walk or drive by these markers every year and never give them a second thought. They're a great source of historic information and we're trying to bring some much needed attention to them.
While following the Historical Marker Trail through Dauphin County we came across the Hanover Church historical marker located at the intersection of US Route 22 and Route 743. There is a Sheetz on the corner, so pull into Sheetz and park to take your photograph for your waymarking records.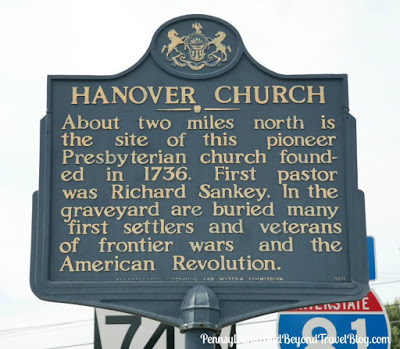 Hanover Church
About two miles north is the site of this pioneer Presbyterian church founded in 1736. First pastor was Richard Sankey. In the graveyard are buried many first settlers and veterans of frontier wars and the American Revolution.
By
: 1947 by Pennsylvania Historical and Museum Commission.
We were hoping to get a few photographs of the cemetery and graveyard but we couldn't find it. We're not real familiar with Grantville, so perhaps we just were on the wrong road when looking for it. While following the Pennsylvania Historical Marker trail we did locate 2 additional markers nearby and you can find them in our
HISTORICAL MARKERS
section on our travel blog.