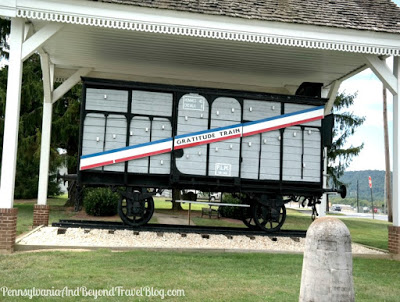 After visiting the
Indiantown Gap National Cemetery
we decided to do a little bit of sightseeing around the Annville area in Lebanon County. If you're a military buff, there's plenty to see, especially if you're a fan of the Pennsylvania National Guard.
While driving down Fisher Avenue we stumbled upon the Merci Gratitude Train Boxcar that is one of forty-nine boxcars sent as a gift to the American people from the citizens of France. It was received during a ceremony in Harrisburg in 1949 and then moved up to Fort Indiantown Gap. The boxcar sits underneath a covered pavilion with a historical marker that gives you information about it. Here's what it says.
This 40 & 8 Boxcar is one of forty-nine cars that comprised the merci or gratitude train, a gift to the American people from the citizens of France. Pennsylvania received it at a ceremony in Harrisburg on February 6, 1949. All forty-eight states received a boxcar filled with gifts, ranging from humble offerings to priceless art and antiques. The District of Columbia and the Territory of Hawaii shared the forty-ninth car. Gifts of sacrifice from individuals conveyed each donor's depth of gratitude to America for liberating France in two world wars and for sending the friendship train, a $40 million food relief effort carried out by American volunteers in 1947, which saved many French citizens from starvation. The 40 & 8 boxcars, so named because of their capacity to hold either 40 men or 8 horses, transported soldiers and horses to and from French battlefields during WW I. Many WW II soldiers rode the boxcars as well. The merci train boxcars now stand as a tribute to sacrifices and bravery of American veterans who served in France in two world wars and as a symbol of friendship and gratitude between the people of the United States of America and the citizens of France.
If you're unfamiliar with the area...it sits across the road from the Fort Indiantown Gap National Guard Training Facility and within walking distance from their airbase. It's a private military airbase and is not open to the public. There are a few benches outside the fence that you can sit on to watch the helicopters and planes takeoff and arrive.
You can walk around the airbase fence line to check out some of the helicopters, planes, tanks, howitzers and memorials that they have on display. Free to visit and open to the public. There is off-road parking nearby (holds several vehicles) where you can park and get out and walk. There are displays on both sides of the road, so please only cross the street via the designated crosswalk.