Over the past 9 years we've been following the Pennsylvania Historical Marker Trail all through our great state and documenting them here on the blog. Millions of people walk or drive by these markers every year and never give them a second thought. They're a great source of historic information and we're trying to bring some much needed attention to them.
While following the Historical Marker Trail through Lebanon County we came across the Indiantown Gap Military Reservation historical marker located on Fisher Avenue near Annville. You'll see it on the right while traveling south. Its a busy road but you can safely pull off to the side of the road to get out to photograph it for your waymarking records.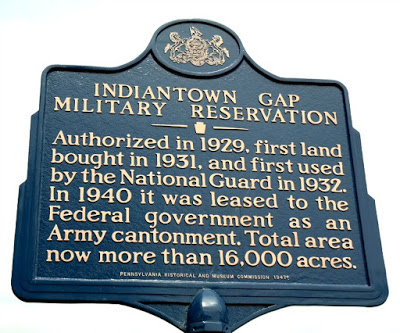 Indiantown Gap Military Reservation
Authorized in 1929, first land bought in 1931, and first used by the National Guard in 1932. In 1940 it was leased to the Federal government as an Army cantonment. The total area is now more than 16,000 acres.
By
: 1947 by Pennsylvania Historical and Museum Commission.
Located nearby you'll find the
Indiantown Gap National Cemetery
, the Pennsylvania National Guard Training Center,
Pennsylvania National Guard Museum
and several military monuments and memorials. If you're passing through the area and looking to grab a bite to eat...We recommend
Funck's Family Restaurant
which sits about a mile from this marker.