Over the past 10 years we've been following the Pennsylvania Historical Marker Trail all through our great state and documenting them on the blog. Millions of people walk or drive by these markers every year and never give them a second thought. They're a great source of historic information and we're trying to bring some much needed attention to them.
While following the Historical Marker Trail through Dauphin County and Hershey we located the Union Canal historical marker. There are
several different Union Canal historical markers
located throughout the area. You can find the other ones documented on the blog too. Here's the information contained on this one.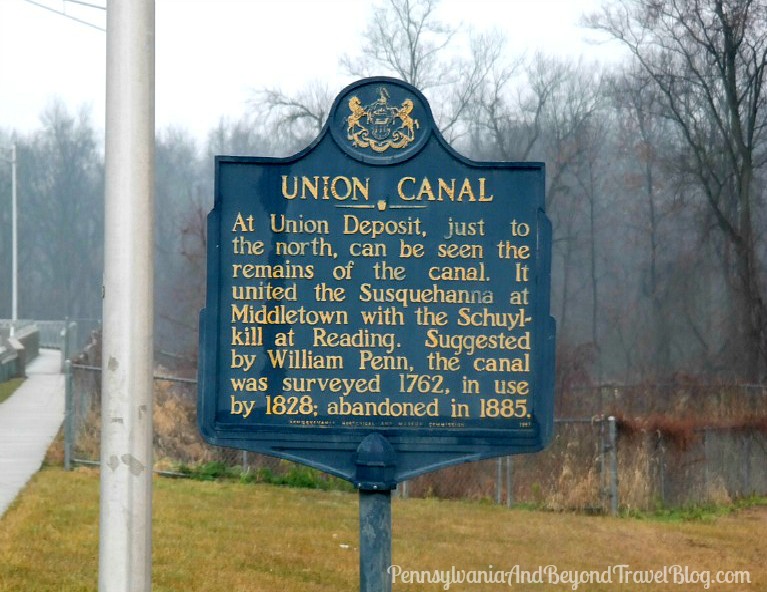 Union Canal
At Union Deposit, just to the north, can be seen the remains of the canal. It united the Susquehanna at Middletown with the Schuylkill at Reading. Suggested by William Penn, the canal was surveyed 1762, in use by 1828, abandoned in 1885.
By
: 1947 by Pennsylvania Historical and Museum Commission
You'll find this one on Hanover Street not far from Hersheypark and Hershey Park Drive. We traveled down Hershey Park Drive and turned right onto Hanover Street. It's within a few yards of the intersection. You can safely pull off the road and photograph it for your waymarking records.
If you're interested in following the Pennsylvania Historical Marker Trail and/or interested in waymarking them you can find additional information in our
Historical Markers
section right here on the Pennsylvania and Beyond Travel Blog.