Over the past 9 years we've been following the Pennsylvania Historical Marker Trail all through our great state and documenting them here on the blog. Millions of people walk or drive by these markers every year and never give them a second thought. They're a great source of historic information and we're trying to bring some much needed attention to them.
While following the Historical Marker Trail through Dauphin County we came across the
Executive Mansion Historical Marker
located at the intersection of Chestnut Street and 2nd Street in Harrisburg, Pennsylvania. Here's the information about it.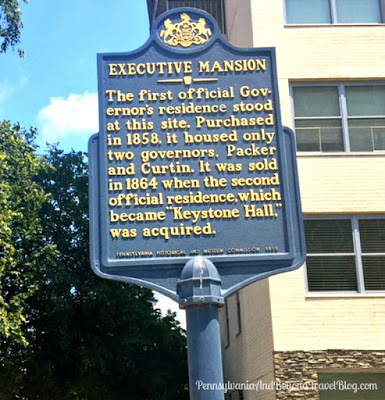 Executive Mansion
The first official Governor's residence stood at this site. Purchased in 1858, it housed only two governors. Packer and Curtin. It was sold in 1864 when the second official residence which became "Keystone Hall," was acquired.
By
: 1998 by Pennsylvania Historical and Museum Commission.
If you're interested in following the Pennsylvania Historical Marker Trail and/or interested in waymarking them you can find additional information in our
Historical Markers
section right here on the Pennsylvania and Beyond Travel Blog.