Over the past 9 years we've been following the Pennsylvania Historical Marker Trail all through our great state and documenting them here on the blog. Millions of people walk or drive by these markers every year and never give them a second thought. They're a great source of historic information and we're trying to bring some much needed attention to them.
While following the Historical Marker Trail through Dauphin County we came across the Mira Lloyd Dock Historical Marker located along North Front Street near the Reily Street intersection in Harrisburg, Pennsylvania. Here's the information on the marker.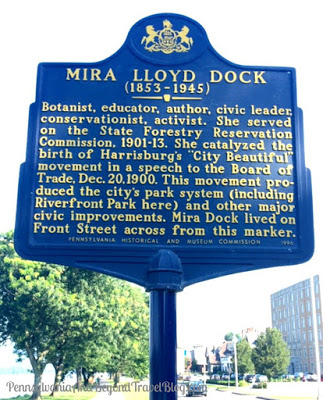 Mira Lloyd Dock
(1853 - 1945)
Botanist, educator, author, civic leader, conservationist, activist. She served on the State Forestry Reservation Commission, 1901-13. she catalyzed the birth of Harrisburg's "City Beautiful" movement in a speech to the Board of Trade, Dec. 20, 1900. this movement produced the city's park system (including Riverfront Park here) and other major civic improvements. Mira Dock lived on Front Street across from this marker.
By
: 1996 by Pennsylvania Historical and Museum Commission.
If you're interested in following the Pennsylvania Historical Marker Trail and/or interested in waymarking them you can find additional information in our
Historical Markers
section right here on the Pennsylvania and Beyond Travel Blog.