Over the past 9 years we've been following the Pennsylvania Historical Marker Trail all through our great state and documenting them here on the blog. Millions of people walk or drive by these markers every year and never give them a second thought. They're a great source of historic information and we're trying to bring some much needed attention to them.
While following the Historical Marker Trail through Dauphin County we came across the
Pennsylvania Farm Show
historical marker located on Maclay Street in Harrisburg. The marker is within walking distance of the actual Pennsylvania Farm Show building and arena. Here's the information contained on the marker.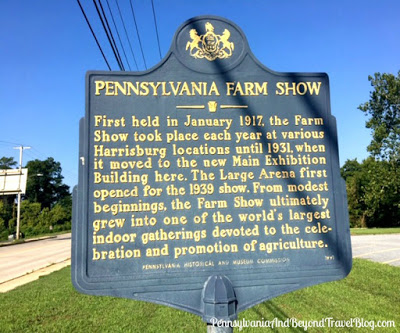 Pennsylvania Farm Show
First held in January 1917, the Farm Show took place each year at various Harrisburg locations until 1931, when it moved to the new Main Exhibition Building here. The Large Arena first opened for the 1939 show. From modest beginnings, the Farm Show ultimately grew into one of the world's largest indoor gatherings devoted to the celebration and promotion of agriculture.
By
: 1991 by Pennsylvania Historical and Museum Commission.
If you're interested in following the Pennsylvania Historical Marker Trail and/or interested in waymarking them you can find additional information in our
Historical Markers
section right here on the Pennsylvania and Beyond Travel Blog.