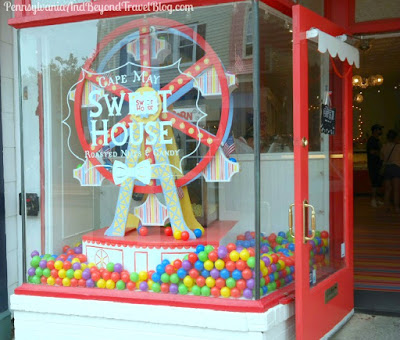 The Cape May Sweet House is one of my favorite candy shops to visit when I'm down vacationing in
Cape May
, New Jersey. You'll find them located in the Washington Street Mall and they're open year round. If you're a candy lover, you're going to love this sweet shop!
As soon as you walk through the door you'll feel like you're stepping back into time. It reminds me of those fancy candy stores that you would find in the big cities during the 1970's. This store brings back a lot of memories from my childhood and why I grew up loving sweets, all kinds of sweets and chocolate confections.
They sell all kinds of different hard candies, gummies, creamy fudge, lollipops, fresh roasted peanuts, licorice, etc. You'll find candy brands that you'll recognize from your childhood along with modern day brands too. If you're on special dietary restrictions they offer sugar-free and gluten-free varieties too.
If you're a fudge lover I would like to make a few recommendations. Try their birthday cake, s'mores and chocolate marshmallow fudges. Oh my gosh...they're the best that I've ever had and I think you're really going to enjoy them. Smooth, creamy, rich, and flavorful. Not sure which flavor to get? Ask them for a free sample!
My two grandchildren love this store and every time we go in there...its a 30 minute visit. They enjoy looking around at all of their fun stuff, before making their candy selections and checking out. They're big fans of the gummie candies and of course...those extra-large, swirly, lollipops on a stick!
Note
: You can double-click on each photograph to have it open up in a new window and in an enlarged size. This will allow you to see the details up close. Thanks!