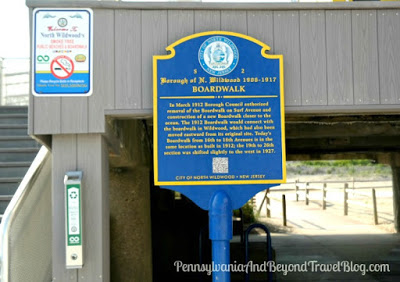 Over the past 7 years we've been following the New Jersey Historical Marker Trail all through the Garden State and documenting them here on the blog. Millions of people walk or drive by these markers every year and never give them a second thought. They're a great source of historic information and we're trying to bring some much needed attention to them.
A few months ago we were down in Wildwood, New Jersey for a summer vacation and stumbled upon the North Wildwood Boardwalk historical marker while heading over to the beach. If you're looking to document this historical marker you'll find it located on the northern end of the boardwalk. It's posted right near a walkway that leads over to the beach (under the boardwalk) and by a ramp that leads up onto the boardwalk. Here's what it says.
Borough of N. Wildwood 1906-1917
In March 1912 Borough Council authorized the removal of the Boardwalk on Surf Avenue and construction of a new Boardwalk closer to the ocean. The 1912 Boardwalk would connect with the boardwalk in Wildwood, which had also been moved eastward from its original site. Today's Boardwalk from 16th to 18th avenue is in the same location as built in 1912, the 19th to 26th section was shifted slightly to the west in 1927.
By
: City of North Wildwood
The borough of North Wildwood recently added some new historical markers around the island and we'll be documenting them on the blog and over on our Pinterest board. I wish more of the smaller communities would install these type's of things because they're educational and help locals and tourists learn the history of the area.