Over the past 10 years we've been following the Pennsylvania Historical Marker Trail all through our great state and documenting them here on the blog. Millions of people walk or drive by these markers every year and never give them a second thought. They're a great source of historic information and we're trying to bring some much needed attention to them.
While following the Historical Marker Trail through Lebanon County we came across the Lindley Murray historical marker in Annville, Pennsylvania. It's within 1 1/2 miles from
Indiantown Gap National Cemetery
. If you're going to visit the cemetery, you'll find it located right down the road. Here's the information imprinted on the marker.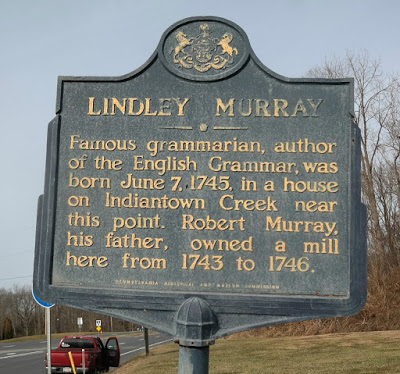 Lindley Murray
Famous grammarian, author of the English Grammar, was born June 7, 1745, in a house on Indiantown Creek near this point. Robert Murray, his father, owned a mill here from 1743 to 1746.
By: 1947 by Pennsylvania Historical and Museum Commission
If you're interested in following the Pennsylvania Historical Marker Trail and/or interested in waymarking them you can find additional information in our
Historical Markers
section right here on the Pennsylvania and Beyond Travel Blog.