The Veterans of the Battle of the Bulge Memorial
is located in Lebanon County at Fort Indiantown Gap, Pennsylvania. The memorial was erected in 1999 by the World War II Historical Preservation Federation. You'll find it located at the intersection of Fisher Avenue and Clement Avenue, within walking distance of the Muir Army Airfield.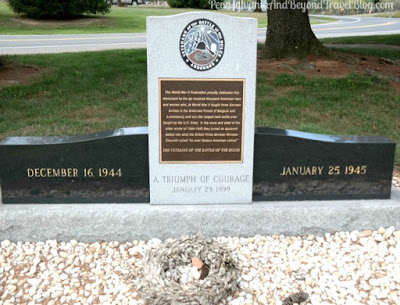 Here's the inscription:
The World War II Federation proudly dedicates this monument to the six hundred thousand American men and women who, in World War II fought three German Armies in the Ardennes Forest of Belgium and Luxembourg and won the largest land battle ever fought by the U.S. Army. In the snow and sleet of the bitter winter of 1944-1945 they turned an apparent defeat into what the British Prime Minister Winston Churchill called "An ever famous American victory". Veterans of the Battle of the Bulge.
Underneath the inscription marker it states "A Triumph of Courage January 29, 1999. Above it is a circular image representation or insignia. To the left it's inscribed December 16, 1944 and to the right it's inscribed January 25th, 1945. At the base is a dried memorial wreath that looks like its been laid there for quite some time.
If you're unfamiliar with the area...it's located about 2 miles from Indiantown Gap National Cemetery, about 1 1/2 miles from the Pennsylvania National Guard Museum and its only a few feet from the fence line at Muir Army Airfield. It sits right along the road and there is a pull-off parking lot (holds about 4-5 vehicles) nearby.
For those of you who are sightseeing or waymarking...you'll find the Merci Peace Train Boxcar within yards of the memorial. If you walk across the street you'll find some of the howitzers, military tanks, helicopters and planes that are on display from the Pennsylvania National Guard Museum. Visiting all of these exhibits are free and open to the public.