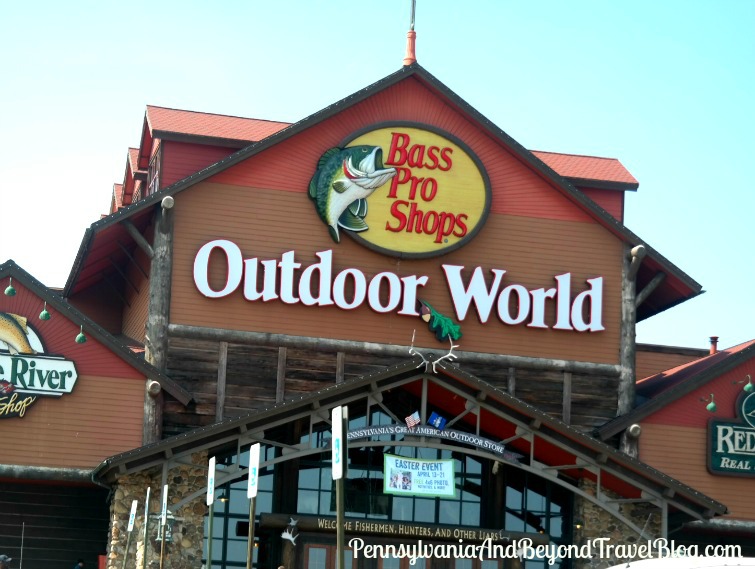 Looking for something fun and educational to do with the kids? If so, head to your local Bass Pro Shops! We like to take our grandchildren over to Bass Pro Shops at the
Harrisburg Mall
throughout the year when they're hosting free activities for the family to enjoy.
For example
:
* Free Fishing Classes for Kids
* Free Easter Bunny Photos
* Free Craft Activities
* Free Photos with Santa
* Plus More!
We enjoy visiting the store located at the Harrisburg Mall off Paxton Street. We will check out their website ahead of time to see what kind of activities and events are coming up. Then we'll plan our afternoon accordingly.
Once you arrive you'll want to spend time walking through the entire store. You'll see a large fish tank containing several different species of fish. Throughout the store you'll see all kinds of different animals and their habitat on display. We take a little notebook along with us and the kids will name off all of the animals that we see. Once we get home we look them up on the internet to learn more about them. A great way to teach your kids about animals and where they come from.
As you walk through the store you'll find several great areas where you can take photographs of the kids. That's right, they welcome cameras at the store and know that parents & grandparents love to take pictures of the kids! Their sales staff is really friendly and many of them enjoy talking with the kids too.
Here are a few tips
:
1. Set aside 2-3 hours in your schedule.
2. Wear comfortable clothing and walking shoes.
3. Take a camera.
4. Limit bags! You want to walk around freely without dragging a bunch of things along with you.
5. Take a small notebook. Have the kids write down all of the animals that they see.
6. Pack your patience! During official events and activities, they can get extremely busy, which means you may have to wait in line.
Visiting Bass Pro Shops makes for a great family-friendly, educational adventure. Our grandchildren always look forward to our visits and it won't cost you a lot of money...most activities are free! If you're looking to make an entire afternoon of it...you'll find kid-friendly restaurants inside and around the Harrisburg Mall.